INDOOR AIR QUALITY
NBNEXUS provides a secure and scalable toolset for device and data management. Multi-tenanted so you can provision individual tenants for customers under your account, and run the platform on your choice of Cloud or On-Prem infrastructure.
We developed a complete turnkey solution – AirQnexus – for new or retrofit installations. The core is our IAQ LoRa® Sensor and a seamless connectivity via API, ModBus IP or BACnet for Building Automation, Analytics, Energy-Management & General Integration:
AirQnexus Turnkey IAQ Solution
Cloud based or On-Premise
LoRaWAN® connectivity
Local IoT Controller with BACnet
BMS Connectivity via API, ModBus IP or BACnet

IAQ Indoor Air Quality Sensor Temperature -10 ÷ 60 °C ( ±0.5°C)

Humidity 0 ÷ 100% (20 ÷ 80% ±3%)
Pressure 300 ÷ 1100hPa (±1hPa)
Ambient Light Sensor 0.01 ÷ 80000 lux (±15%)
IAQ Index 0 ÷ 500
bVOC 500 ÷ 50'000ppb (sensor to sensor deviation ±15%)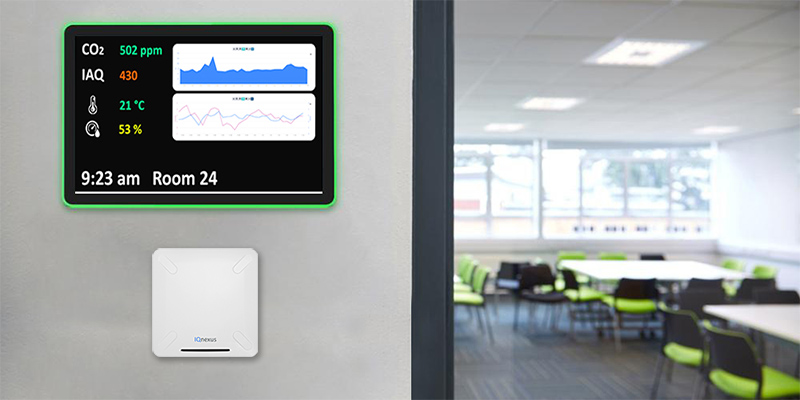 HVAC, Indoor Air Quality and COVID-19
Hands-on recommendations concerning COVID-19 and general ventilation systems to prevent the transmission of airborne deseases
IQnexus customers highly value us providing correct and precise data throughout all our business processes. Accordingly, we refrain from any communication concerning COVID-19 that is not based on facts and widely
agreed recommendations by academia, the Eurovent Association, REHVA, ASHRAE, or comparable respected bodies.
A good and healthy indoor air quality is more essential than ever. Correctly maintained, operated, and planned HVAC solutions are key – not least because of COVID-19. In addition a independent and transparent Indoor Air Quality Monitoring and Analytic System is required which has a supervisory role for building owners, landlords and tenants. It provides data and information about how following measures have been implemented by the HVAC and BMS contractors.
Maintain HVAC system regularly, operate and plan it correctly 
Our first recommendation is always applicable: Maintain, operate and plan any type of ventilation system properly while respecting established hygienic standards and operation manuals.
Optimise ventilation 
To ensure a continuous supply of fresh air while also diluting indoor air contaminants, most of the respected associations and studies recommend increased ventilation.
Maintain minimum humidity levels 
The right humidity level is important to minimize the spread of influenza viruses. It is being recommended to set the relative humidity level to optimally 50%, minimum 40% and not exceeding 60%.
AirQnexus was developed as a wireless retrofit solution based on LoRaWAN® to monitor an analyse Indoor Air Quality and to provide the information to the owner and user of airconditioned spaces on a zone level. AirQnexus provides data to existing BMS systems via standard protocols like ModBus IP or BACnet.